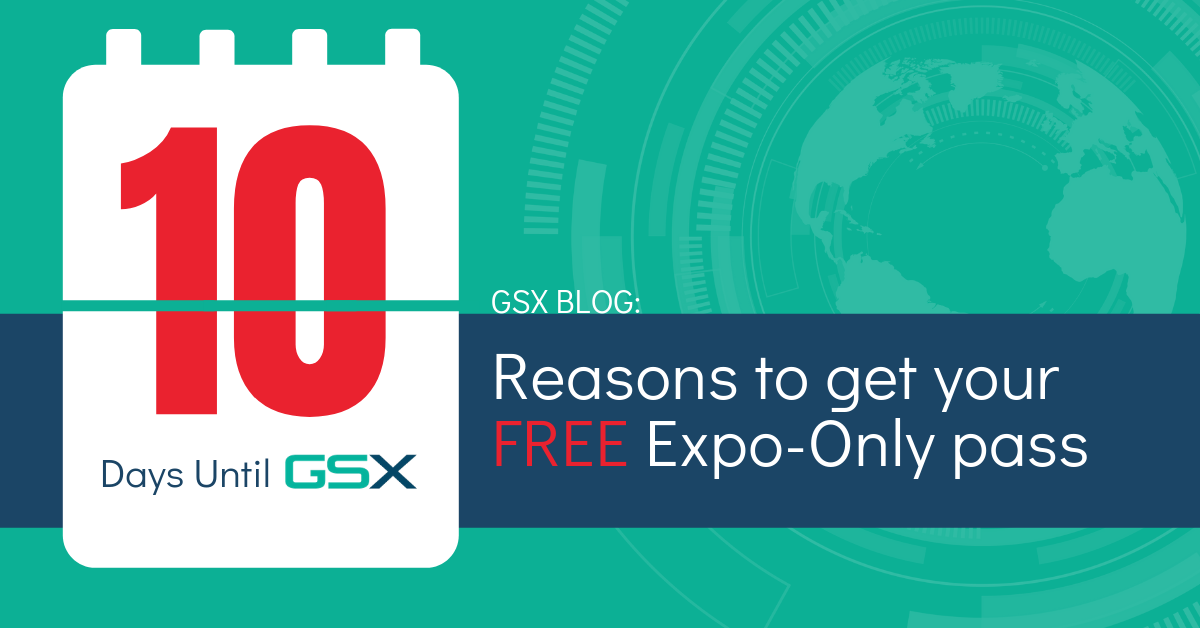 We're officially within 10 days of Global Security Exchange (GSX) 2018! As the industry's flagship event for more than 60 years, the newly rebranded GSX—formerly the ASIS International Annual Seminar and Exhibits—will deliver exciting updates to its annual conference at the Las Vegas Convention Center this year.
With an expected 22,000 registered attendees, GSX is one of the largest gatherings of security professionals in the world—bringing together cyber and operational security professionals, vendor partners, media, students, and allied organizations for enhanced learning, career development opportunities, and access to the innovative technologies shaping how business gets done.
Not sure whether a free expo-only pass is worth your time? Here are 10 reasons why…
1. To check out the interactive GSX D3 Experience – *New this year!*
Join us in this new feature area for education and hands-on demos exploring unmanned and interactive robotics. If you are looking to implement a drone program within your organization, need to hire a drone-as-a-service company to augment security, are concerned about how to counter the threat of rogue operators, seek to understand how to harden your facility to prying eyes or more dangerous incursions, or just want to learn about the latest cutting edge technologies, the GSX D3 Xperience will open your eyes to new possibilities!
PLUS— have the chance to take your own turn at the commands to pilot a drone through the "gauntlet"—our own UAV obstacle course where the winning time will take home a DJI Phantom Pro system.
The GSX D3 Experience is a brand-new exhibit hall feature brought to GSX 2018 with the support of the Association for Unmanned Vehicle Systems International (AUVSI).
2. To immerse yourself in one of our three X-Learning stages
Each X-Learning stage has its own style and content and is designed to offer the security practitioner something unique. Those stages include:
• The X Stage (Booth #4042) –Discussions at this stage cover topics such as frontier technology, innovation, and the future of security. Dynamic and  leading-edge educational tracks, panels, and discussions focused on embracing technology to find effective solutions to security challenges make the X-Stage a must-see stage.
• The Xperience Stage (Booth #141) – This stage is all about case studies, evidence of effectiveness, and the argument for efficiency. Here, you'll find showcases of tried-and-true best practices and conversations that are focused on underlining success factors, rather than the value of a specific product.
• The Xcelerated Exchange Stage (Booth #151) – At this stage, enjoy town hall-style discussions, debates around current security challenges, and various applications of technology and procedure. This stage provides a forum for the discussions that need to take place between practitioners and solution providers to propel the industry forward.
3. To mingle with your fellow professionals at the Con-X-tions Lounge
Continue the conversation from the X Stages, while also recharging, relaxing and networking with peers. The Con-X-tions Lounge is THE place to be as our industry-leading speakers socialize with GSX-goers after their X Stage presentations.
4. To beef up your career game at our Career HQ
Be sure to stop by Career HQ, where you'll find FREE resume reviews, a professional Headshot Studio with award-winning photographers and makeup artists, one-on-one career coaching sessions, professional development sessions, and networking opportunities with leading employers and industry professionals.
5. To scope out your next career move at the Career Fair
As we speak, organizations like the Department of Homeland Security and Apple are looking to hire talent like you, and they know that the best talent around will be at the Career HQ Career Fair.
Register in advance to increase your opportunity to interact with employers before, during, and after the event!
6. To catch the illuminating address by Thursday's keynote speaker, K.T. McFarland
McFarland will close out the conference on Thursday, 27 September with her address, which will take attendees on a fast-paced geopolitical tour around the globe. As the first deputy national security advisor in the Trump Administration, she will share an insider's perspective on critical foreign policy and defense issues. The Thursday is open to all GSX registrants—including those with Expo-Only registration.
7. To get exclusive access to the International Trade Center
GSX 2018 is proud to be a participant in the U.S. Department of Commerce International Buyer Program (IBP), which recognizes the event's worldwide importance in the security industry. All attendees and exhibitors are invited to stop by the International Trade Center, where you'll find:
• Private conference rooms for meetings
• Interpreters
• Export counseling by U.S. Department of Commerce trade specialists
• Matchmaking services for international attendees and exhibitors
• Export directory of exhibitors
• Relaxing lounge to relax and recharge
8. To get the skinny about the latest industry resources at the ASIS Hub
ASIS International thrives on providing its members with the resources, tools, and connections to grow professionally. Visit the ASIS Hub, Booth #3557 to learn more and take advantage of all that we have to offer, including:
• Fireside Chats
• Council Pods
• Passport Prize Drop Off
• Charging Lounge
9. To get access to the FREE ASIS Happy Hour on the show room floor
Join us for happy hour in the exhibit hall to celebrate the end of the first day of the show! Enjoy complimentary drinks as you network with your peers and colleagues and explore essential solutions at this interactive happy hour, designed to increase your connections.
10. Networking, Networking, Networking
Connections are made all throughout GSX—in exhibit hall sessions, receptions, lunches, and the exhibit hall—you never know who you'll meet next! And there's no better place to network with the global security community than these must-attend events. Don't miss this once a year opportunity!