Security Connections, Multiplied.
Connections are made all throughout GSX—in sessions, receptions, lunches, and the exhibit hall—you never know who you'll meet next! And there's no better place to network with the global security community than these must-attend events.
ASIS Town Hall Meeting
Sunday, 8 September | 4:00 – 5:30 pm
ASIS is committed to being accessible and collaborative and keep an open line of communication between ASIS staff and membership. These Town Hall meetings are an example of how we intend to deliver on that promise—in person in Chicago and throughout the year online.
Opening Night Celebration—Chicago on the Silver Screen
Sunday, 8 September | 6:00 – 8:00 pm
Start GSX 2019 off on a high note by greeting old friends and making new ones at Revel Motor Row, a popular Chicago landmark originally home to the Illinois Automobile Club. Enjoy our take on a night out at the movies as you wander from the high energy of "Ferris Bueller's Day Off" to the rockin' blues of "The Blues Brothers" to the elegant chic of "Chicago," with plenty of food, beverages, and entertainment. This event is open to all attendees and exhibitors. Tickets required; included with All-Access Pass or purchase online.
Networking Lunch
Monday, 9 September | 12:00 – 1:00 pm
New for 2019! After a morning of exchanging ideas in the conference sessions, take a break and continue the conversations over lunch while meeting new friends.
Tickets required; included with All-Access Pass.
New location: Lakeside Center, Hall D
Awards Reception featuring the Outstanding Security Performance Awards & Karen Marquez Honor
Monday, 9 September | 4:00 – 6:00 pm
Join your friends and colleagues for a reception as we celebrate our industry's biggest achievements. Many of our ASIS chapter members will be honored, and we will be recognizing the winner of the Karen Marquez Honor. In addition, the event will feature the U.S. Outstanding Security Performance Awards (OSPAs), which recognize and reward companies and individuals across the security sector. Tickets required (included with All-Access Pass or available for purchase at registration).

ASIS Award categories:
Council Awards

Women in Security Global Council Karen Marquez Honors Award
Young Professionals GSX Experience Award
Ralph Day Security Officer Heroism Award

Chapter Awards

Chapter Website of the Year
Chapter Newsletter of the Year
Chapter Community Service Award

CSO Center Award

Don Walker Award for Enterprise Security Executive Leadership

ASIS Foundation Awards, Scholarships, and Grants
Career Development Scholarships
Dennis A. Noggle Certification Scholarships
Road to Certification Scholarships in Honor of Allan J. Cross
ASIS Foundation/IFPO Certification Scholarships
Nicholas G. Abbaticola Academic Scholarship
John L. Buckley Academic Scholarship
John P. Manning Academic Scholarship
Security Education Grant in Honor of Roy Bordes
Outstanding Corporate Partner
Chapter Philanthropy Award
2019 Donor of Distinction
Outstanding Security Performance Award (OSPAs) categories:
Outstanding In-House Security Manager or Director
Outstanding Contract Security Manager or Director
Outstanding Security Team
Outstanding Security Consultant
Outstanding New Security Product
Outstanding Security Training Initiative
Outstanding Young Security Professional OSPA
Outstanding Security Officer
Outstanding Contract Security Guarding Company
Lifetime Achievement Award
ASIS Happy Hour
Tuesday, 10 September | 4:30 – 5:30 pm
While exploring the GSX exhibit hall, relax and chat with other attendees and exhibitors during the happy hour. Enjoy complimentary drinks as you discuss the events of the day. Open to all.

Women in Security and Young Professionals Happy Hour
Tuesday, 10 September | 5:30 – 7:00 pm
Join the ASIS Women in Security Council and Young Professionals Council from across the security industry for this informal networking reception. Don't miss this opportunity to connect with colleagues, ASIS leadership, and experienced security practitioners.

President's Reception—Fight for Your Right to Party!
Wednesday, 11 September | 7:00 – 10:00 pm
North Hall B, McCormick Place
This is it; the can't-miss event of GSX 2019! Who doesn't love a high-energy party to wrap up the week with your friends and colleagues? And…wait for it…we are going back in time to the 80s—the decade of Madonna, Prince, Journey, "Back to the Future," and "Top Gun." Don't forget to bring your best 80s attire (neon anyone?) and dance to live entertainment, play iconic video games, and enjoy food and drinks and top-notch networking. This event is open to all attendees and exhibitors. Tickets required; included with All-Access Pass or purchase online.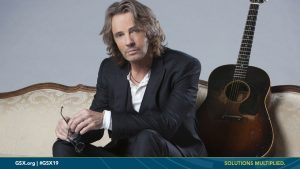 RICK SPRINGFIELD to headline the reception! You don't have to be Jessie's Girl to enjoy the hit music of this 80s icon! Tickets are still available onsite at GSX registration desks.

Note: In order to expedite the check in process and security screening, we encourage you not to bring bags or large purses to the event. If you must bring a bag, all bags will be subject to search and there will be bag check available. Oversized bags such as suitcases or luggage are not permitted.
Check back in the coming months for additional details about our networking events.