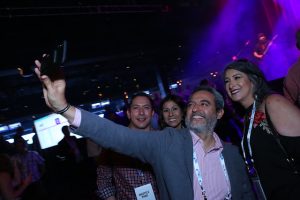 Global Security Exchange is all about connections. Make the most out of the only event bringing security professionals from all vertical markets throughout the world together.
Sunday night's Opening Night Celebration and Wednesday's President's Reception are your chance to party with friends and colleagues! Grab a drink, hang out with peers, and enjoy these fun nights at the can't-miss events of GSX 2019.
Start GSX 2019 off right as we enjoy the best of Chicago with the Opening Night Celebration—Chicago on the Silver Screen on Sunday, 8 September from 6:00 – 8:00 pm. Catch up with old friends and make some new ones at Revel Motor Row— originally home to the Illinois Automobile Club. The popular landmark is the perfect spot to enjoy Chicago-themed movies, along with plenty of food and beverages. There's no better place to spend the first night of GSX!
Break out the bright colors, shoulder pads, and big hair as we keep the party going throughout the week! Throw on your best 80's attire, hop into your DeLorean, and join us as we go back in time for the President's Reception—Fight for Your Right to Party! Dance to live entertainment, play iconic video games, enjoy food, drinks, and top-notch networking at North Hall, McCormick Place on Wednesday, 11 September from 7:00 – 10:00 pm. Please note, the event location has moved and will be held in the North Hall, right here McCormick Place.
These events are open to all attendees and exhibitors. Tickets required; included with All-Access Pass or purchase online.
We'll see you on the dance floor!