That's right folks – were only one day away from the event we've all been waiting for…GLOBAL SECURITY EXCHANGE (GSX) 2019!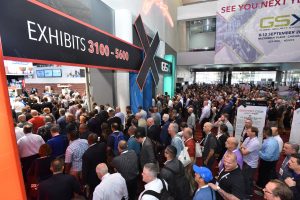 ASIS International, the world's largest association for security management professionals, is hosting the security event of the year at Chicago's McCormick Place from September 8-12. Formerly the ASIS International Annual Seminar and Exhibits, GSX is the most relevant and pioneering security event that unites the full spectrum of the security industry.
So, whether you work in cyber, operational or physical security in the private or public sector, you'll find that GSX–with the most comprehensive security education and innovative technology in the world–applies to your career. Only ASIS has the expertise, influence and resources to deliver the industry's flagship event.
But wait…there's more! GSX has elevated your event experience by adding more modern education learning experiences, revitalizing its networking opportunities, and reimagining the trade show floor. You will be able to explore the current and future security landscape, exchange key ideas and best practices, expand global connections and experience new innovations. It's the expert-level education, networking and marketplace you know – but multiplied.
In the exhibit hall, there will be interactive and exciting displays, demonstrations and new X-Learning stages to explore as you move throughout the exhibit booths. If you want to learn more about who will be available on the show floor, you can search the exhibitor list to prepare!
This year, the full conference program will feature more than 300 security courses, including pre-conference certification review courses. If you're looking to enhance your career development, look no further!
ASIS International has always been deeply committed to providing excellent ways to invest in and advance the security profession all year round. Your attendance at GSX will directly support scholarship programs and the development of education, certification and standards and guidelines.
This dedication to enriching the knowledge shared, best practices and connections made directly benefits security professionals across all disciplines – at all stages of their careers. Our goal is to provide the best information and resources needed to succeed personally and professionally.
We'll see you there!