A Smarter Xchange
GSX offers a best-in-class environment for education, networking, and business building that will provide year-round benefits for attendees and exhibitors alike. The GSX education program—led by ASIS and InfraGard National subject matter experts—consists of a full curriculum of quality content in an immersive and interactive learning environment, offering insights and best practices to security professionals at every stage in their career. Explore hundreds of expert-led sessions, each designed to deliver valuable, actionable takeaways to help shape your security strategy—today and in the future. In addition, you can also attend exciting Game Changer sessions, all meant to touch on hot and controversial topics, and hear from General Session keynote speakers who share their high-level insights.
Every year, attendees hear from global leaders who offer insider insights into some of the most important issues facing security management professionals worldwide and the latest technologies changing our industry and our lives. Previous topics from global leaders have included navigating the geopolitical  landscape; protecting assets in the age of cybersecurity leaks and scandals; the impact of today's rapid digital transformation on security management and leadership; and an examination of important forces, developments, and risks affecting the global community, just to name a few. See who is speaking.

Game Changer Sessions
Back by popular demand, the GSX Game Changer education sessions provide multiple perspectives from thought leaders on the latest security topics and the changing security landscape. These mini-general sessions touch on hot and controversial topics, so prepare for interesting conversations that could make you re-think how you tackle your jobs, prepare for new challenges, and interact with internal and external stakeholders who fall within your security security responsibilities. Previous topics have covered the ever-changing drone landscape, the growing and trending cannabis sector, leadership in times of disruption, and the accelerating digital transformations effecting the security industry. Check back throughout the year for details on these exciting special sessions.
Conference Education Sessions
Throughout the three days of GSX, you'll have a multitude of options to hear solutions (and ask questions) from experts—peers in the security industry—who are making great strides in their careers and are having success overcoming the latest trends and challenges facing security professionals from all vertical sectors. Stay-tuned, details of the 2020 education program will be announced in May.
There is an education track for every security professional: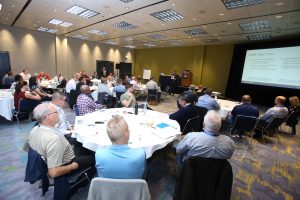 Business Continuity
Crime/Loss Prevention
Digital Transformation
Enterprise Security Risk Management
Information Security / Cyber
Law & Ethics
Managing Organizations
National Security
Outside Relationships
Personal/Personnel Security
Physical & Operational Security
Professional Development
Unmanned Systems
X Learning