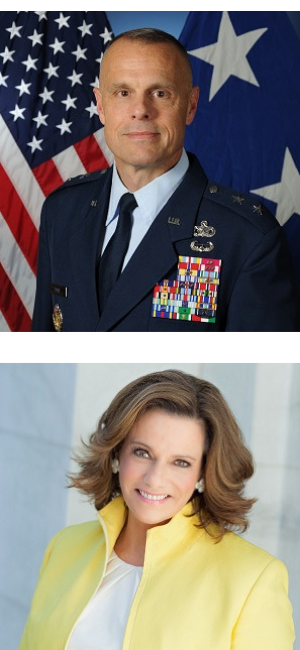 Air Force Major General Bradley D. Spacy and former Trump Administration Deputy National Security Advisor K.T. McFarland are joining CNN host Fareed Zakaria and futurist Scott Klososky in next month's GSX keynote lineup.
As Commander of the Air Force Installation and Mission Support Center, General Spacy is responsible for mission support capabilities to 77 Air Force installations, nine major commands and two direct reporting units with an annual budget of approximately $10 billion.
His Sept. 26 keynote, kicking off Military and Law Enforcement Appreciation Day at GSX, will examine the changing security landscape, both in the U.S. and around the world.
In addition, Spacy will provide details on the new AFWERX innovation and tech hub in Las Vegas and how the Air Force is looking to collaborate with the private sector to bring new security product ideas to market. Attendees will also learn about the evolving AFWERX/ASIS partnership and will be the first to hear a special announcement about the AFWERX Challenge.
McFarland will close out the conference on Sept. 27 with her address, which will take attendees on a fast-paced geopolitical tour around the globe. As the first deputy national security advisor in the Trump Administration, she will share an insider's perspective on critical foreign policy and defense issues. McFarland's presentation is open to all GSX registrants—including those with Expo-Only registration.
With a keynote lineup featuring recognized experts in global affairs, technological innovation and industry transformation, GSX delivers a truly comprehensive global event.
Visit our keynotes page to view complete session descriptions for each day's address.