GSX Honors Member of the Military and Law Enforcement
Military and Law Enforcement Appreciation Day honors the individuals who make our communities and world a safer place. As a thank you for your service, all law enforcement, military, and first responders get FREE one-day admission to GSX on Wednesday, 11 September. Register today! Use the code "THANKS" when registering to receive the free pass.​
---
HIGHLIGHT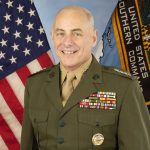 Geopolitics and Security | Wednesday, 11 September | 8:30 – 10:00 am
General John F. Kelly
U.S. Marine Corps (RET)  | Former White House Chief of Staff and Secretary of Homeland Security
Your Complimentary One-Day ​Pass Includes:




• Wednesday General Session—General John F. Kelly

• Access to Wednesday's education sessions that align with today's most critical headlines—including IoT security, active shooter, soft target protection, human trafficking, and workplace violence

• Access to the exhibit hall featuring 550+ exhibitors showcasing thousands of security products and services, plus all the can't-miss show floor features

• Lunch in the exhibit hall on Wednesday and Thursday

• 12 September General Session in the exhibit hall (if you choose to stay another day)



Please note: You will need to present an official government or military ID when you pick up your badge onsite at registration. If you do not have a valid ID, you will need to pay the onsite price for a Wednesday One-Day Pass. This offer is not valid for contractors​.
---