Wednesday, 26 September
Military & Law Enforcement Appreciation Day honors the individuals who make our communities and world a safer place. As a thank you for your service, all law enforcement, military, and first responders get FREE one-day admission to GSX on Wednesday, 26 September. ​
Your Complimentary One-Day ​Pass Includes:
Wednesday keynote—Major General Bradley D. Spacy, Air Force Installation and Mission Support Center Commander
Plus, make plans to come back the following morning for the Thursday keynote— K.T. McFarland Former Deputy National Security Advisor, Trump Administration
Access to Wednesday's education sessions that align with today's most critical headlines—including IoT security, active shooter, soft target protection, human trafficking, and workplace violence
Access to the exhibit hall featuring 550+ exhibitors showcasing thousands of security products and services, plus all the can't-miss show floor features
Registration
All law enforcement, military, first responders, and veterans will receive a FREE One-Day Pass ($870 value!) on Wednesday, 26 September.  Be sure to enter promo code THANKS to take advantage of this special offer. Reception tickets can be purchased separately.
Please note: You will need to present an official government or military ID when you pick up your badge onsite at registration. If you do not have a valid ID, you will need to pay the onsite price for a Wednesday One-Day Pass. This offer is not valid for contractors​.
---
Keynotes included with your FREE pass.
Wednesday, 26 September | 8:30 – 10:00 am
SPECIAL GLOBAL ADDRESS
Brigadier General Mohammed Al-Habdan
Secretary General of the Higher Commission for Industrial Security
Ministry of Interior
Kingdom of Saudi Arabia
CHANGING LANDSCAPE, EVOLVING CULTURE: THE AIR FORCE APPROACH TO INNOVATION AND PARTNERSHIP
Major General Bradley D. Spacy
Air Force Installation & Mission Support Center Commander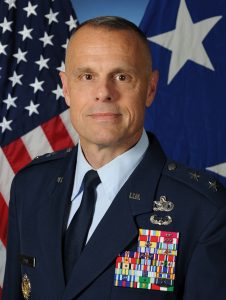 Major General Bradley D. Spacy has an extensive military career that also includes experience and training in strategy and leadership. As Commander, Air Force Installation and Mission Support Center, he leads an intermediate-level headquarters responsible for providing installation and mission support capabilities to 77 Air Force installations, nine major commands and two direct reporting units with an annual budget of approximately $10 billion. No stranger to the world security stage, Major Spacy will share the Air Force perspective on the changing security landscape, both in the U.S. and around the world.
Major General Peter E. Gersten
Commander, United States Air Force Warfare Center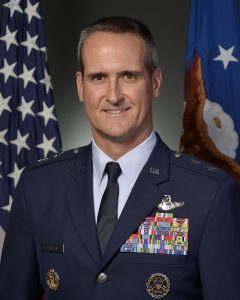 As commander of USAFWC, Major General Peter E. Gersten, is no stranger to innovation in security. With a mission of developing innovative leaders, the Center functions as a team of innovative, highly skilled Airmen providing effective weapons, tactics, and command and control integrated across air, space and cyberspace for the Joint Force Commander. As part of this innovative approach, Major General Gersten will introduce AFWERX, a catalyst for agile Air Force engagement across industry, academia, and non-traditional contributors to create transformative opportunities and foster an Air Force culture of innovation.
Learn more about the growing AFWERX/ ASIS partnership to accelerate technology and innovation. Launching onsite in Vegas, get early access to participating in a multimillion dollar initiative to further advance national security. Be sure to join us Wednesday morning for a major announcement related to the AFWERX Challenge!

Thursday, 27 September | 8:30 – 10:00 am
SECURITY FIRST IN A RAPIDLY CHANGING WORLD
K.T. McFarland
Former Deputy National Security Advisor | Trump Administration
Join K.T. McFarland on a fast-paced geopolitical tour around the globe. As the first deputy national security advisor in the Trump administration, K.T. has an insider's perspective on critical foreign policy and defense issues, including the "America First" and "Peace Through Strength" initiatives. With more than four decades on the forefront of global politics and national security—including posts in the Nixon, Ford, and Reagan administrations, and most recently as Fox News' national security analyst—K.T. is one of the country's most prominent and respected national security experts.
The world landscape is changing at warp speed. K.T. will walk us through the challenges and opportunities facing America and those around us—both allies
and competitors. In addition, she will explain how global security professionals play a crucial role in shaping the world of today—and tomorrow. Don't miss
what promises to be a lively, informative, and cutting-edge discussion.
---