In anticipation of GSX, we sat down with one of our exhibitors to have them share their thoughts and insights regarding trends in the security profession. This week we are featuring an interview with Mike Beattie, CIO & SVP IT Securitas Electronic Security, Inc. (now Securitas Technology).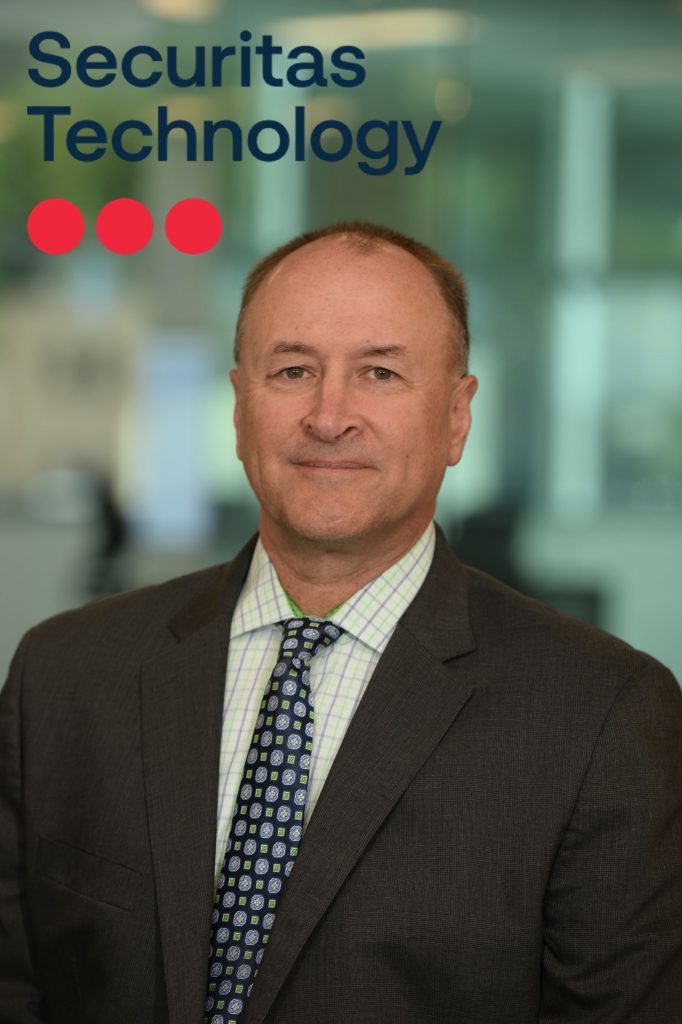 Q: What are the most pressing security concerns you are hearing from your clients in 2022?
With many businesses resuming an in-office or hybrid work environment, the need for faster technology adoption has come to the forefront. The most pressing security concern Securitas Electronic Security, Inc. (now Securitas Technology) is hearing from clients is the need for integrated security solutions, with the main focus on interoperability. Many security vendors are making the leap from just providing hardware services to providing complete solutions. With these drastic leaps in video capabilities and vendor solutions, it is imperative clients have the ability for a product or system to work seamlessly with other products and systems. Securitas is accelerating the focus on technology and solutions, including AI and smart analytics, to stay at the forefront.
Q: Are you seeing a demand for integrated solutions going hand in hand with the convergence of departments/functions such as physical security, cybersecurity, life safety, and business continuity?
Absolutely. The convergence of security technology is a unified effort across all departments and functions that might not have typically been involved in the conversation, such as HR, Marketing, etc. With the transition of dial-up technology to IP-based, we are no longer talking about just an IT department or physical security system. It goes back to interoperability and systems coming together to make a complete, holistic security solution.
At the Securitas Technology Engineering Center of Excellence (CoE), we take multiple security solutions and test first-hand how they work together to improve business continuity. For example, with gunshot detection, we are working on and evaluating a solution involving software, cameras and smart analytics. When the audible gunshot detection occurs, the closest camera will pick up the location to help reduce response time from first responders. Combining physical and life safety functions bolsters the complete solution.
Q: IT and IT security has been front and center in the news and in boardrooms across the globe as a result of the pandemic with many companies switching to remote work with their employees. How have you seen the role of IT change within your own company since the start of the pandemic? 
The IT department became front and center at management meetings following the COVID-19 pandemic. The main question: How do we help promote physical security and cybersecurity for employees, especially in a remote working environment, while also maintaining business continuity?
Through its Pandemic Response Task Force, Securitas Technology provided associates with a comprehensive business continuity plan that included antivirus detection and malware documentation, as well as training on how to have a heightened observance for phishing attacks, which have become extremely realistic and sophisticated since the start of the pandemic. We wanted to ensure our associates had the full suite of cyber tools at their fingertips. IT continues to be at the forefront of these discussions.
Q: What are some of the leading trends in the world of electronic security that security management professionals should be aware of over the next 18-24 months and why?
The best security management professionals are thinking far into the future, which is key to predicting and staying abreast of trends, market fluctuations and geopolitical events that affect the industry. When this isn't the case, changes like the final transition to LTE from 3G cause big ramifications. So, looking forward, the next big move will be the final transition from dial-up to IP-based. Beyond industry-wide impacts, it is also critical to think about your own organization's deployments holistically. How will these changes affect your hardware and equipment? Will you have to roll out new equipment or provide software updates to all equipment? Ensuring you are answering these questions before they occur will help you be prepared.
We are also seeing an uptick in startups rolling out exciting new technologies. About four or five years ago, we first started to see them break into the security industry. But now they have successful beta customers, multiple installations and continue to expand. We are excited to see these companies at GSX, and to evaluate them through our proven process and our Securitas Product Evaluation Committee. Transitions always happen, so you have to be ready for the next evolution in technology.