Promote Your Involvement with GSX
As a valued ASIS International partner, your voice in the security space is imperative to the success of GSX. Help us to amplify the power of this new hybrid experience by inviting your network to join you on 27-29 September 2021. To make promoting GSX even easier, we have developed these user-friendly tools.
This promotional toolkit includes:
Social sharing
ASIS International Chapter justification PowerPoint
Customizable email invitation
Zoom backgrounds
Your network values your opinion, invite them to join critical industry conversations at GSX. Together, we are paving the way for the future of security.
Social Sharing Through GleanIn
New for 2021, we have partnered with GleanIn to provide easy social sharing with custom social media images. GleanIn connects seamlessly to your social media profiles and it takes just a few seconds to share with your networks why you'll be attending GSX.
Chapter Justification PowerPoint
ASIS International Members are encouraged to share this justification PowerPoint with their Chapter.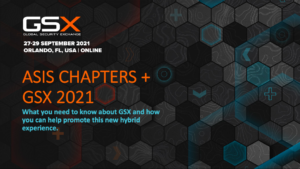 Zoom Background
Have an upcoming Zoom meeting? Add this background to your Zoom account by following these instructions.
Email Invitation
Personally invite your colleagues and contacts by customizing this email.
Dear [NAME],
I hope you will join me at GSX, 27-29 September 2021, a completely new hybrid experience designed to amplify the voice of the global security industry in managing today's most pressing issues.
If you are serious about learning in the security space and advancing your career, then I highly recommend GSX. Whether you choose to attend in person or digitally, you will:
Discuss the latest in security trends and timely topics
Get access to the latest security products
Network with professionals across the distribution channel, from end users to dealers and distributors
Exponentially increase your knowledge — and the value you bring to the table — through the very latest on COVID-19, global leadership, workplace violence, cybersecurity, school security, the cannabis industry, unmanned systems, and more
Join me by registering today at www.gsx.org.
Sincerely,
[SIGNATORY]