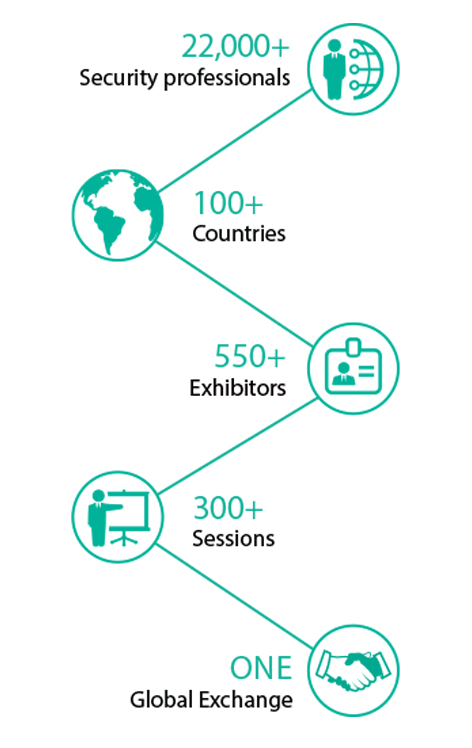 ASIS International, the world's largest association for security management professionals, has changed the name of its flagship security event from the 64th Annual Seminar and Exhibits to the Global Security Exchange (GSX).
More than just a new name, GSX delivers new opportunities to exchange  of ideas and best practices, expand global connections, and experience innovations. Join your peers in Las Vegas and multiply your strategies to proactively anticipate and stay ahead of the rapidly changing threat landscape.
A GREATER EXCHANGE
As the trusted organization for the security profession, only ASIS International has the expertise, influence, and resources to deliver the industry's flagship event. Attending GSX keeps security professionals educated, informed, and ahead of the innovation curve and in front of tomorrow's threats—creating safer workplaces and communities worldwide.
A SMARTER EXCHANGE
Explore 300+ sessions—led by ASIS, InfraGard, and ISSA subject matter experts—that are designed to deliver valuable, actionable takeaways to help shape your security strategy today and in the future.  See education sessions >>
A SOLUTIONS EXCHANGE
The GSX exhibit hall serves as a learning lab environment featuring presentations and demonstrations on the latest products and services, including machine learning, robotics, forensic analysis, IoT, and artificial intelligence. Compare cutting-edge technologies, acquire the latest in​formation, and find new solutions from 550+ exhibitors. Check out the exhibit hall >>
A GLOBAL EXCHANGE
GSX unites the full spectrum of security for world-class education, vital business connections, and the latest solutions and innovations on the market. Connect with peers and colleagues from 100+ countries e to explore the trends and technologies driving the security industry. Learn about the International Buyer Program >>
---