GSX Keynote Presentations
GSX is designed to address the comprehensive nature of security, creating an integrated experience focused on understanding the changing landscape, and the tools and tactics to proactively anticipate and mitigate threats. Every year, attendees hear from global leaders who offer insider insights into some of the most important issues facing security management professionals worldwide and the latest technologies changing our industry and our lives.
Tuesday, 10 September | 8:30 – 10:00 am
Challenging the Status Quo to Achieve Transformational Success
Steve Demetriou
Chair and Chief Executive Officer, Jacobs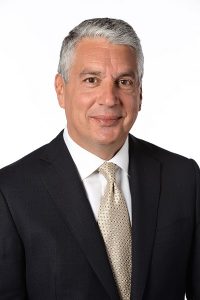 Demetrious will share his perspectives on security from the viewpoint of a CEO of a multinational engineering company with a big security footprint.
Steve joined Jacobs as CEO in August 2015, and the following year was appointed Chair of the Board of Directors. Steve has steered a profound reshaping of Jacobs' business portfolio, operations, and culture. Under his leadership, the firm has accelerated profitable growth and transformed into the leading, next-generation solutions provider.
In addition to the Jacobs leadership experience, Steve's broad international business perspectives are the product of more than 35 years in leadership and senior management roles across a broad range of industries, including Specialty Chemicals, Metals, and Mining. In addition to serving on Jacobs' Board, Steve also serves on the boards for FirstEnergy Corp and the U.S. Chamber of Commerce. He is also a Board member and the U.S. Co-Chair of the U.S.-Saudi Arabian Business Council and a Member of the Business Roundtable.
Wednesday, 11 September | 8:30 – 10:00 am
Geopolitics and Security
General John F. Kelly
U.S. Marine Corps (RET)
In a world where dictators are falling and rising, governments posture for a greater impact on the global stage, and information is the critical currency, who will emerge and where will opportunities exist? The face of security changed forever on 11 September 2001 and General Kelly, a 4-Star General, U.S. Secretary of Homeland Security, and White House Chief of Staff, has protected the United States both abroad and at home. His unique ability to provide first-hand insight into the evolving geopolitical landscape around the world is valuable when contextualizing the United States' security priorities from a historical, current, and future perspective. Gen. Kelly will share his insights—on Wednesday, 11 September during the keynote address at GSX—on the trends, risks, and potential rewards amid the 'hot spots' around the globe, and the role the U.S. plays (and should play), in our nation and world's security.
Secretary Kelly enlisted in the Marine Corps in 1970 and went on to serve in a number of command, staff, and school assignments. During his command of SOUTHCOM, he worked closely with professionals in U.S. law enforcement, particularly the FBI and DEA, and the Department of Homeland Security, dealing with the flow of drugs, people, and other threats against the U.S. homeland. He went on to become the Secretary of Homeland Security before serving his country again as White House Chief of Staff until January 2019.
General Kelly's keynote presentation will start Military and Law Enforcement Appreciation Day off at 8:30 am. GSX will honor members of the military and law enforcement with a full complimentary day of education sessions and access to our exhibit hall—an interactive learning lab full of immersive experiences and cutting-edge technology. Use code "THANKS" when registering and bring your ID onsite.
Thursday, 12 September | 8:30 – 10:00 am
Protecting Assets in the Age of Cybersecurity Leaks and Scandals: How to Plan When Risk is a Moving Target
Tarah Wheeler
Cybersecurity Policy Fellow, New America
Reports of cybersecurity leaks—and major scandals—have dominated headlines for years. Cybersecurity attacks are doubling every year. Phishing scams are at an all-time high. These days, it isn't an IT manager answering for security breaches, it's CEOs and business owners. Do you have a comprehensive plan in place to protect your most important assets? If something goes wrong, how will you react, put out fires, and recover lost trust? Have you considered the consequences of information falling into the wrong hands in 10, 20, 30, or 40 years?
Tarah Wheeler is an engineer who went from the keyboard to leading the world's top red teams and data privacy teams. An offensive security researcher, she is currently the Cybersecurity Policy Fellow at New America, leading a new international cybersecurity project. She is an inaugural contributing cybersecurity expert for the Washington Post, and a Foreign Policy contributor on cyber warfare. In this talk, she brings depth, warmth, and sparkling humor to an otherwise complex, but necessary, subject. From cryptocurrency to how the Internet of Things might provide a gateway to hackers, and absorbing how a robust cybersecurity plan operates to covering security at live events, Wheeler offers a razor-sharp breakdown of what you need to know—and do—to protect yourself, your partners, and your clients.
Ms. Wheeler will be introduced by Brigadier General Stefanie Horvath, current leader of enterprise service delivery for the state of Minnesota. After her presentation, the General and Ms. Wheeler will lead a lively Q&A session drawn from their very different vantage points related to cybersecurity.
Visit again to see the other Keynote speakers we have planned for Monday and Tuesday.