Throughout the year, ASIS International provides individuals and groups the chance to be recognized for their achievements or gain access to opportunities they wouldn't otherwise have. Whether these are supported through the ASIS Foundation, our councils and chapters, or partnerships, these awards are all a part of how we give back to the security professional.
Outstanding Security Performance Awards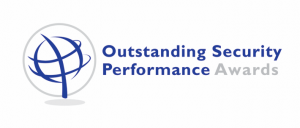 The OSPAs recognize and reward companies and individuals across the security sector. They are designed to be both independent and inclusive, providing an opportunity for outstanding performers, whether buyers or suppliers, to be recognized and their success to be celebrated.
Call for Nominations: The U.S. OSPAs are part of a global awards organization currently running in eight countries and designed to recognize and reward outstanding performance within the security sector. Entry to the U.S. OSPAs is open to companies, teams, and individuals who have performed at an exceptional level and you can enter as many categories that are applicable. Submissions for 2018 are now closed. For more information on the awards, visit us.theospas.com.
Karen Marquez Honor
This prestigious award is presented annually to a female security professional who has consistently worked for the betterment of the security industry over an extended period. Candidates must be a member of ASIS International in good standing (or a Life Member) at the time of the award. The nomination must identify contributions the individual has made to the security industry, and the candidate must attend Global Security Exchange to be considered. Nominations are now closed.
Hosted by the ASIS Women in Security Council
Innovative Product Awards (for exhibitors only)
Do you have an award-worthy new product or service? If your company is planning a new product launch or exhibiting innovative new technologies or services at GSX 2018, you'll want to enter the Innovative Product Awards (formerly Accolades)! Deadline: Friday, 3 August