Honoring the Best in Security
Each year, ASIS International provides individuals and groups the chance to be recognized for their achievements or gain access to opportunities they wouldn't otherwise have. Supported through our councils, chapters, and partnerships, these awards are part of how we distinguish those that give back to the security profession and celebrate their accomplishments.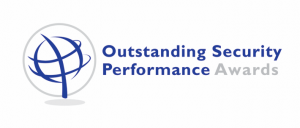 Outstanding Security Performance Awards
The OSPAs recognize and reward companies and individuals across the security sector. They are designed to be both independent and inclusive, providing an opportunity for outstanding performers, whether buyers or suppliers, to be recognized and their success to be celebrated.
Women in Security Global Council Karen Marquez Honors Award
This award honors a female security professional who has consistently worked for the betterment of the security industry over an extended period. Nominees should be able to demonstrate how they have supported, promoted, and inspired other women in our industry to be exceptional leaders. Nominees must be an ASIS member in good standing but do not have to be a WIS Council member. Nominees must possess a minimum of 15 years' experience in the security industry or 10 years' experience or equivalent with an ASIS Certification. The winner must attend GSX 2020 to receive the award.
The winner will be recognized at the ASIS Awards Reception at GSX 2020, with a special recognition plaque, and other promotional exposure.
Hosted by the ASIS Women in Security Council
Innovative Product Awards (for exhibitors only)
Do you have an award-worthy new product or service? If your company is planning a new product launch or exhibiting innovative new technologies or services at GSX 2020, you'll want to enter the Innovative Product Awards (formerly Accolades)!
YP GSX Experience Award
This award recognizes three ASIS young professional volunteer members who have exhibited strong leadership in the security industry. Applicants need to be below the age of 40. The criteria for this award include age, financial need, merit, council volunteer leadership participation and prior attendance at GSX (formerly the Annual ASIS Seminar).
The winners of the award will be recognized at GSX 2020 and will receive complimentary registration, hotel accommodations, airfare reimbursement, and a special recognition plaque.