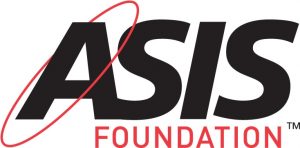 The ASIS Foundation supports global security professionals through scholarships, grants, and research. Attend these Foundation events at GSX and have fun while also giving back to your profession:
Sharpshooter Contest
Foundation Booth #2541
Tuesday, 10 September – Wednesday, 11 September | 10:00 am – 5:00 pm
Thursday, 12 September | 10:00 am – 1:00 pm
(tickets required)
New for 2019! Test your shooting skills and compete for bragging rights and prizes in the new ASIS Foundation laser Sharpshooter Competition sponsored by Smart Simulators and SB Tactical.
This simulated marksmanship competition will take place on Tuesday, Wednesday, and Thursday in the exhibit hall during GSX show hours. Your $20 donation allows you to compete for more than $500 in prizes to be awarded each day. Register to compete on the day of your choice or on all three days.
A limited number of advance tickets will be available to guarantee your spot in the competition so please register early.
There are three ways to register:
With your GSX advanced conference registration.
On-site when you pick up your conference badge and materials.
At the Foundation booth (if spaces are still available).
If you would prefer to try some laser shooting but not compete, you may do so during the 'open play' times each day for a suggested donation of $5 or more. Stop by the ASIS Foundation Booth #2541 during exhibit hall hours, make your donation, and enjoy some target practice—or challenge a friend and see who wins.
All event proceeds benefit the ASIS Foundation and support research, grants and scholarships to benefit security professionals.
Fine print: Competition tickets may be used only for the day designated on the ticket, even if time runs out. It is your responsibility to visit the booth early in the day (don't wait until the last hour!) to ensure you get the opportunity to compete. No refunds will be given.
FAQs
When does the competition take place? Do I have to register for a specific time? No, you do not need to choose a specific time, however you do need to choose a specific day. When you register, you will select the day(s) you want to compete. You will then receive a ticket for one competition round and one practice round on the day(s) you have selected. The first 15 minutes of every hour from 11:00 am to the close of the exhibit hall will be available for competition shooting. You may stop by the booth during any of those times and take your shots. All other exhibit hours will be open for noncompetitive 'free play' time.
What is included with my donation?
Your donation includes one round of practice (3-5 tries at the current simulation) plus one round of competition (3 tries for highest score) and the opportunity to qualify for daily prizes valued at $100-$500.
How will you determine the winners?
The Smart Simulator equipment can track shooting times to one one-hundredth of a second. A leaderboard in the ASIS Foundation Booth will continuously display the top scores for that day. When the exhibit hall closes, the top scorers of the day will be notified via e-mail that they have won and will receive instructions on how to pick up their prizes.
What is the ASIS Foundation?
Founded as an affiliate of ASIS International in 1966, the ASIS Foundation serves the security industry worldwide through education and practical research. The Foundation awards grants plus more than 120 certification scholarships annually. Donating to the Foundation is an opportunity to give back to security industry colleagues and help them achieve their career goals. Governed by a volunteer Board of Trustees and managed by a full-time staff director, the Foundation is supported by generous gifts from individuals, organizations, and ASIS regions and chapters.
Opening Night Celebration—Chicago on the Silver Screen
Revel Motor Row
Sunday, 8 September | 6:00 – 8:00 pm
While enjoying a "night out at the movies", you can also support the ASIS Foundation. For a suggested donation of just $10 each, pick up some unique 'flair' in each of the three movie-themed rooms: "Ferris Bueller's Day Off", "The Blues Brothers", and "Chicago." And don't miss the chance to dress up like a Chicago gangster or 20's flapper and have your photo taken, suggested donation: $20. All proceeds benefit the ASIS Foundation and support research, grants and scholarships for global security professionals.
Complimentary Research Report
Foundation Booth #2541
New this year, the ASIS Foundation will have its own booth in the GSX exhibit hall. Please stop by to pick up a complimentary executive summary of new research on "The State of Security Convergence" and learn more about the Foundation's work. Drop off your chapter or individual donation and have a photo taken with members of the Foundation Board and a 'big check'. You can also participate in the Sharpshooter Competition or open play laser shooting at the same location.
Meet and Greet for Foundation Grant and Scholarship Recipients
Foundation Booth #2541
Tuesday, 10 September | 4:30 – 5:30 pm
Attention Foundation grant and scholarship winners: we invite you to stop by the Foundation booth #2541 on Tuesday during the Happy Hour in the exhibit hall to meet members of the Foundation Board of Trustees and have a group photo taken. Winners of the CPP Accelerator scholarship, Road to Certification, Career Development, Bordes grant or any other Foundation grant or scholarship in the past few years are encouraged to attend. See you there!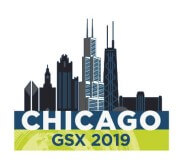 Commemorative GSX19 Pins
Debuted last year, a limited edition, collectible GSX19 pin will again be offered by the ASIS Foundation. The pins will be available for a suggested donation of $20 at the Foundation booth (#2541), the Headshot Lounge, and the Bookstore. Be sure to pick up your 2019 GSX Chicago pin while supplies last.