Take Your Marketing Efforts Online
Global Security Exchange (GSX), powered by ASIS International, offers expanded opportunities for exhibitors to engage buyers on the show floor AND online. We offer a wide selection of digital opportunities for you to make the most of your GSX experience.
A New Digital Opportunity
The value is in the numbers—100,000 impressions guaranteed with an online retargeting campaign. Retargeting is the practice of showing targeted advertisements to people who have visited a specific website. This enables GSX to serve visitors ads on other sites they visit.

What does this mean for your company? Retargeting campaigns can build brand awareness, drive traffic to your booth, or promote special show-only deals.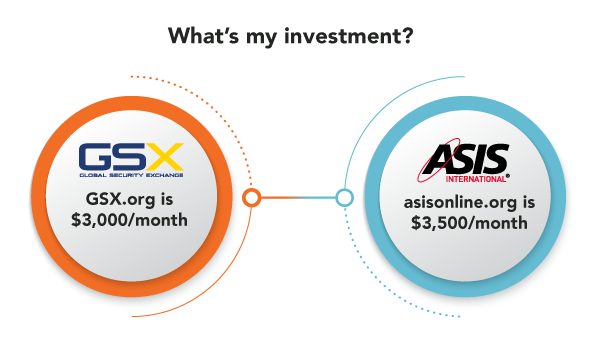 Or expand your reach by choosing both for $5000!
Take your marketing to the next level with a high return, low-cost investment.
100,000 impressions guaranteed per campaign (30 days).
Full ROI report to track your campaign's progress.
Exposure to the GSX audience (GSX.org) or the ASIS International audience (asisonline.org), or both! Your audience is your choice.
Contact our team to take advantage of this special retargeting investment today.
---
Increase Your Company's Visibility
Place your company in front of prospective attendees. Thousands of security professionals visit our official website to learn more about education, events, and, of course, who's exhibiting at GSX. A limit of five spots for $5000 are available for banner ads on GSX.org.
Our audience is your audience: website ads can drive traffic to your booth by building brand awareness.

Contact our team to take advantage of this new banner ad investment before they are all taken.
---
Looking for Something Different?
We have a variety of different advertising and sponsorship opportunities to set your company apart at GSX 2020. Download the GSX 2020 Sponsorship Prospectus for inspiration or visit our Sponsorship page.
---
Contact our team for any questions about sponsorship opportunities at GSX 2020.