Your Sales, Multiplied.
Global Security Exchange (GSX), formerly the Annual Seminar and Exhibits, presents a growing focus on an international audience coming together to share ideas, explore options, and invest in solutions.
As an exhibitor at GSX, you'll not only strengthen your market position and promote your brand, you will also reinforce your organization's commitment to advancing the global security community—generating business opportunities and partnerships that will continue to pay off long after the show is over. There's no better investment to boost your sales and marketing strategies than GSX 2019.

Exhibitor Prospectus      View the Floor Plan      2019 Sponsorship Brochure
Why Global Security Exchange?
GSX offers expanded opportunities for exhibitors to engage buyers on the show floor with exclusive show-only hours, lunches and happy hour, enhanced learning theaters, Innovative Product Awards, Career Center programming, and immersive learning format on the X Stage!

GSX delivers a qualified audience of global buyers. It is the best place to connect with your target audience—end users, systems integrators, and service providers—and show off your portfolio of products and services to thousands of buyers—all in one place at one time.
91% involved in the purchase of security technology, products and/or services

60% plan to buy one or more products/services as a result of attending GSX 2018

$2.9M average organizational security budgets (26% increase from 2017)
It's a global community. More than 25% of buyers are from outside the U.S.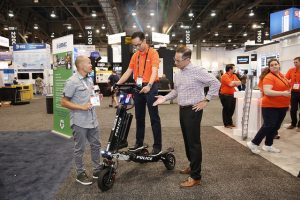 It's powered by ASIS International. Tens of thousands of security professionals worldwide rely on ASIS for trusted, vetted information, insights, and peer support. GSX is their go-to destination for networking, education, and marketplace solutions.
There's nothing else like it in the world. Join these leading solution providers and be a part of the most influential and innovative marketplace in the security industry.
Let's discuss how we can support your business development goals.