GSX Delivers Serious Buyers
Exhibiting at GSX 2020 provides an unparalleled opportunity to connect with high-level security buyers and decision makers who are gathering information and making purchasing decisions regarding the most effective security solutions and expertise available in the marketplace. Show off your portfolio of products and services to thousands of buyers across the supply chain—all in one place at one time.
Meet Professionals from Across the Distribution Channel

GSX Attendees Represent a Wide Variety of Vertical Markets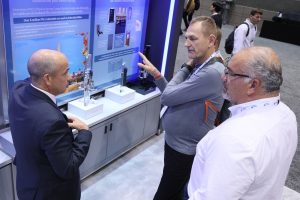 Accommodation & food services
Amusement, gambling & recreation
Banking, finance & insurance
Consulting & professional services
Defense & intelligence
Education
Emergency services
Food & agriculture
Health care
Information technology & telecommunications
Law enforcement
Manufacturing
Media & entertainment
Museums & cultural properties
Oil, gas & chemical
Pharmaceutical
Public administration (Government, non-defense)
Real estate & construction
Retail
Security services
Transportation & supply chain
Utilities
GSX Attendees Have Buying Influence and Power

GSX Attracts Fresh Leads Across Regions Each Year
An advantage you'll get from exhibiting at GSX is meeting fresh contacts from around the U.S., as the show moves to different locations to better serve the industry. In addition to the global reach you'll get through our extensive international audience, you'll also get fresh leads in 2020 as the show moves to the Southeast.