The GSX 2019 International Delegation Program
GSX 2019 unites physical, operational, and cybersecurity professionals across all vertical markets for world-class education, vital business connections, and the latest solutions and innovations on the market. Connect with peers and colleagues from around the globe to explore the trends and technologies driving the security industry.
Join a Delegation
Visa Information
Registration and Housing
International Lounge
Delegation Leader Contacts
Download a flyer about the international program and delegation benefits to share with your colleagues.
Arabic Flyer
Chinese Flyer
English Flyer
French Flyer
Japanese Flyer
Portuguese Flyer
Spanish Flyer 
Swahili Flyer
Swedish Flyer
Join a Delegation
Leaders interested in forming a delegation should contact Dick Willard, ASIS international consultant, at +1-803-514-2048 or dwillard@his.com to begin the process, obtain materials and information, and acquire a special code for delegation leaders and another for members to use to receive the registration discount.
Interested in joining a delegation from your country and saving 50% on your registration fees? Contact your delegation leader below, or contact Dick Willard, ASIS international consultant, at +1-803-514-2048 or dwillard@his.com who will contact your U.S. Commercial Service Specialist to discuss forming one from your country. Please check back often as delegations are added every week.
International delegations receive the following benefits: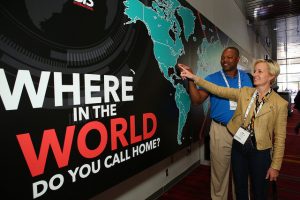 50% off individual GSX registration fees on All-access and One-day passes. This discount does not apply to Pre-Conference Programs and Certification Review Courses. You must be part of a delegation to receive the code for the discount. Contact your country's delegation leader for assistance (see below for additional information).
Unlimited use of the International Lounge.
Exclusive international registration kiosk onsite.
Special gift from ASIS to delegation members.
Delegation leaders of groups with fifteen or more per country receive a complimentary hotel room of ASIS' choosing in an official conference hotel for four nights (room and tax only; individual is responsible for all incidental charges). Deadline to submit the delegation leader housing form is 27 June 2019. Delegation housing is on a separate page than the one connected to the registration page. Please use this site to reserve housing for delegation members: https://www.mcisemi.com/asis2019/international
Read the information below to talk with your country's contact and connect with others traveling from your region.
International Lounge
Stop by the International Lounge, located in the exhibit hall, where you will find:
Private conference rooms for meetings
A relaxing space to recharge and connect with colleagues from around the world
Complimentary WiFi access
Refreshments
Registration and Housing for Delegations
To receive a letter of invitation, you must first register for GSX. Your letter will be available on the confirmation page and in your confirmation email, after you complete registering. Please note: your registration fees will be refunded if the visa was applied for well in advance of GSX 2019 and proof is shown that a visa could not be granted even though all requested documents were  submitted in a timely manner. Refund requests must be made in writing and emailed with the proof to GSX 2019 Registration at ASIS@mcievents.com, no later than 9 August 2019. Refund requests received after that date will not be accepted.
ASIS International will review special requests for refunds after GSX 2019 and no later than 18 November 2019. ASIS retains the right to determine what constitutes an emergency situation, if additional supporting documentation is required, and if a refund will be given, and ASIS' decision will be final. ASIS will not refund due to travel carrier cancellations or other unforeseen incidents beyond attendees control. All attendees are urged to purchase personal travel insurance.
Hotel rooms can be reserved for delegation members on a separate page than the one connected to the registration page. Please use this site to reserve housing for delegation members:https://www.mcisemi.com/asis2019/international
Visa​s
The United States has updated its visa policies to increase security for our citizens and visitors. It will likely take you longer to get a visa than it used to, and you will find that a few new security measures have been put into place. Please visit the U.S. State Department for complete information on visa policies, how to get a visa, visa news, or to locate a consular office. For details that may apply specifically to your country, visit usembassy.gov.
Please note: ASIS International has no influence on the decision of any U.S. Embassy or Consulate to approve or reject any application for a visa to enter the United States. As an applicant, it is your responsibility to present legitimate reasons for attending GSX 2019 and provide all necessary documentation to support your request for a visa. ASIS International cannot assist you with the visa application or interview process, nor can we contact the Embassy or Consulate on your behalf to support your visa application.
Delegation Leaders
Belgium
Karel.Vantomme
Brazil
Genard Burity
U.S. Commercial Service
U.S. Consulate General – Rio de Janeiro
Bulgaria
Peter Delin
Canada
Lucy Latka
U.S. Commercial Service
Caribbean Region
Sheila Diaz de Andujar
U.S. Commercial Service
Colombia and Andean Region
Camilo Gonzalez
U.S. Department of Commerce
Croatia
Nina Cerkez
Dominican Republic
Sheila Diaz
Honduras
Rommel Alcantara
India
Srinivasa Murthy
U.S. Commercial Service
Kenya
Janet Mwangi
U.S. Commercial Service
U.S. Embassy—Nairobi
Morocco
Halima Berrami
U.S. Commercial Service
U.S. Consulate General—Casablanca
Nigeria
Anthony. A. Adesina
Commercial Specialist
U.S. Consulate General—Lagos
Norway
Marianne Ruud CS
Saudi Arabia
Ahmed.Khayyat
Singapore
Mr. NG Haw Cheng CS
Spain
Angela Turrin
U.S. Commercial Service
U.S. Embassy—Madrid
Taiwan
Rita Chen
Thailand
Kitisorn Sookpradist
UAE-Abu Dhabi
George Messiha CS