Education You Can't Find Anywhere Else
The GSX+ education roster has been curated to help you stay current on the latest topics affecting the industry. From crisis prevention and campus security to digital forensics and leadership skills, GSX+ offers more than 100 sessions that address the biggest challenges facing our industry today. The expansive educational offering includes live Q&As for each session, X Learning, D3 Xperience, game changer sessions, and visionary keynote addresses, for a lineup you can't get anywhere else.
CPE-Eligible Education
GSX+ helps you to maintain or work towards an ASIS Certification. Your CPEs will be loaded into your online recertification application and will be automatically approved for credit when you attend GSX+. Please allow 4-6 weeks after you have attended for your CPEs to be loaded into your account.
All-Access Pass: 25 CPEs (includes sessions, Marketplace, and on-demand recordings)
One-Day Pass: 5 CPEs per day (sessions and Marketplace)
Marketplace: 5 CPEs
Exhibitors: 3 CPEs for entire experience
GSX+ Tracks
The all-access education lineup has been organized into five tracks to help you pinpoint sessions that address your specific challenges and navigate the experience seamlessly. Gain critical insight and knowledge at a time when our profession is in greater demand than ever before — all while earning 25 CPEs with your All-Access Pass.
+ Leadership and Managing Organizations
Engage in live and on-demand sessions about benchmarking, critical and analytical thinking, financial management, communication, team management, and more.
+ National Security
As a national security professional, you're at the nexus of climate and energy security, critical infrastructure protection, terrorism, and transborder security.
+ Physical and Operational Security
From vendor management, travel security, and surveillance to architecture, engineering, and design, GSX+ includes 46+ live and on-demand sessions dedicated to locking down campuses, systems, and operations.
+ Risk Management
Attend more than 56 sessions dedicated to enterprise security risk management (ESRM), active assailant, insider threat, intellectual property, and vulnerability assessments.
+ Digital Transformation/Information Security
Register for concrete knowledge about the most esoteric elements of technology, including augmented & virtual reality, AI, data analytics, IoT, cybercrime, and new, emerging technologies.
GSX+ Daily Themes
For some events and industries, five days might sound like a stretch. For the world of security management—where evolution is constant and new threats and protocols are quickly emerging—it's a sprint. Packed with high-level content and speakers that get to the heart of the matters at hand, GSX+ is designed to help you streamline your schedule and get up to speed fast with laser-focused days built around overarching themes. Interested in a singular topic? The One-Day Pass is the perfect option.
+Monday, 21 September
A New World View … Global Perspectives on Leadership and Security
+Tuesday, 22 September
Facing the Future: What's Beyond the Horizon?
+Wednesday, 23 September
Leading in Turbulent Times
+Thursday, 24 September
Innovation and the Cyber Landscape: The Crossroads of Physical & Cyber Security
+Friday, 25 September
Focus on Your Personal Success
Game Changers + X Learning + D3 Xperience
Outside of the daily themes and tracks, GSX+ features three revolutionary learning experiences.
+ Game Changers
Security is ever changing, GSX+ makes it easy to follow. Delivered by thought leaders who are transforming their industries, these short informational sessions spotlight disruptive technologies and topics. Each of the sessions is hosted interview-style and will take a long-view look on an issue including policy implications and how the landscape is changing.
+ X Learning
Security technology is emerging at a rapid pace, GSX+ covers what you need to know now. Covering the latest in cyber, AI, smart cities, and tech; these sessions open the door for meaningful conversations around technologies poised to have a transformative impact on today's security professionals.
+ D3 Xperience
The D3 Xperience is all about droids, drones, and defense. Here is where leaders in unmanned systems take a laser-focused approach on these emerging technologies.
BROWSE THE FULL EDUCATION LINEUP
An Unrivaled Virtual Platform
The easy-to-use interface of GSX+ makes finding and engaging with these sessions seamless. On-Demand sessions will also be available through the same easy-to-use interface.
+Sample Sessions Overview Page
Search through the sessions by date, time, track, type, speaker, or word search. Plus, scroll through all available sessions with titles and descriptions right on the page.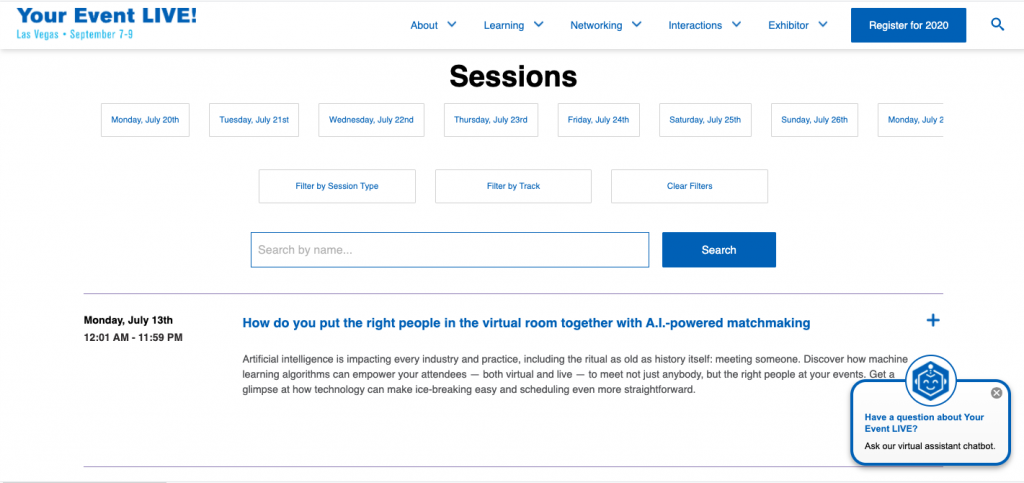 +Sample Live Session Page
Once you enter a live session you can view through a video player and interact with the speaker and fellow attendees through a Q&A chat feature.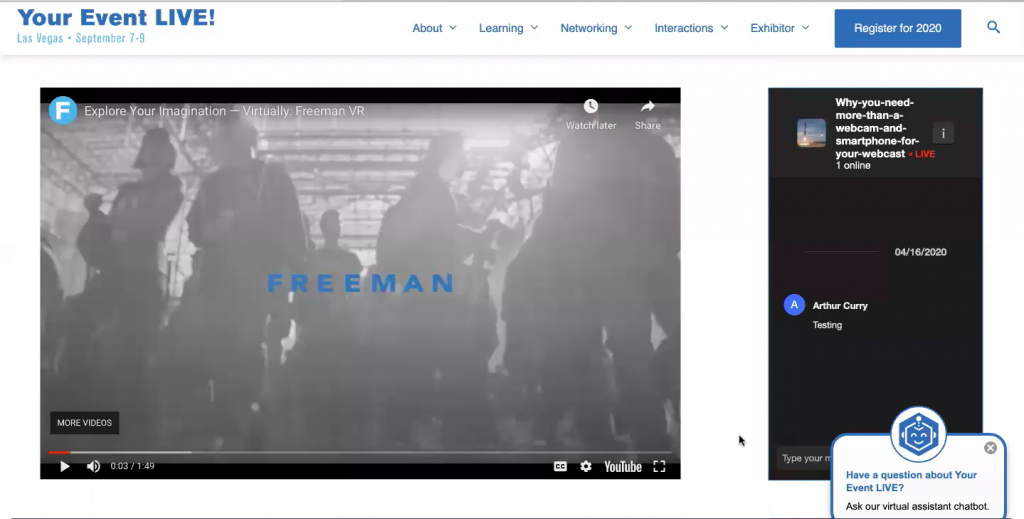 +Sample Speakers Page
Looking for a specific speaker? Head to the speaker page to find a listing of everyone who is presenting at GSX+. Plus access their bio, social channels, and more.